 Black Pottery
With time, the ancient village tradition of pottery was disappearing from both rural and urban areas leaving potters struggling for survival.
With Dastkar Ranthambhore, the potters of Shyamota did not lose their skills. Channeling their talent into now creating a range of animals, the potters have not only improved their sales, but have created hallmark products.
Like in any other place, here too exists a division of labour between men and women. While the women prepare the clay and create finer decorations, the men get busy in shaping the basic forms of the animals and also handle the firing.
All wares are polished before firing thereby giving the end product a sparkling finish. In Shyamota, all the vents of the kiln are sealed towards the end of the firing session. This is done to create a smoky atmosphere inside that gives the pottery a blackish grey hue that is unique only to Ranthambhore.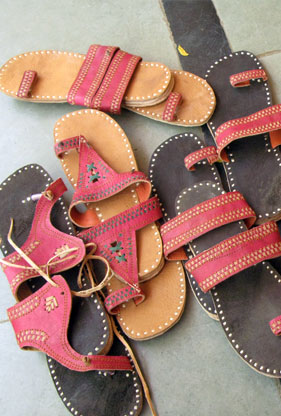 Leather
In the initial days of scouting for craft techniques, Dastkar Ranthambhore came across ragar (tanner) families in Kundera. The families would tan their own leather to make Mojaris (footwear) for the local population.
The craftsmen, Prahalad and Gaindilal were eager for a new era. Hence, we trained them in the art of chatai(weaving) under an expert Panalalji in old town Sawai Madhopur. Currently, Prahalad and Gaindilal are fine tuning their working skills as well as working on an export order for an international designer.
Despite such progress, it is unfortunate that the decline of this art is inevitable. For all we know, Prahalad and Gaindilal might be the last generation of hand-made footwear makers.
Chindi(rag) toys
In 2007, Dastkar Ranthambhore noticed a charpai (rope strung cot) outside one of the homes in the village Rawal. The ropes had been made of old clothes ripped into strips, twisted and then braided. This paved the way for a new craft in making small animals with scrap fabric, which was available in plenty at any given time. Apart from toys, accessories such as clips and key chains were developed along with footwear uppers teamed with soles made from tractor tyres.
Today, these brightly coloured toys and accessories have attracted a large following and have become our best selling product range.
Katta(sack)
Situated near Dastkar Ranthambhore's new center in Kundera, is the village of Padli whose women make bags and accessories out of waste cement and fertilizer sacks. These products are beautifully embroidered in bright lively colours and designs which mirror the surrounding environment. Motifs from mandana (wall and floor paintings), the yellow of the mustard fields, parakeet green and peacock blue are just a few of the inspired designs one will find on these products.
The women traditionally made hand fans and chumlis (pot holders) with waste sacks. Dastkar utilized their talents and introduced them to developing new objects like wallets, iPad cases, bags and satchels; products more suited for urban markets. Thus, the craft has adapted to the changing times thereby ensuring its continuation and preservation.
Chappai(Block Printing)
By the time Dastkar Ranthambhore was created, there was only one block printer left in the district of Sawai Madhopur, a reputed printing center. In the current lifestyle, where rural women preferred to wear colourful, durable and reasonably priced new synthetic fabrics to age old printed ghagaras (skirts), chippas such as Babulal were on the verge of giving up their trade which they relied upon for their existence.
With the intent to revive the craft, Babulal was invited to set up a printing unit at the Kendra. Together, with his wonderful collection of blocks that he had inherited from his forefathers, we designed and developed a special range based on drawings by local children of the animals, trees, and mandanas (wall and floor paintings).
These blocks have become our hallmark and identity today. With a strong and determined printing team, we aspire to keep this traditional art from becoming extinct.
Guddari, tagai, patchwork
In our first days of discovering traditional craft skills, we came across guddaris. These were made by layering old used cloth and stitching them together with tagai. A geometric pattern was often used on the top layer to enhance the look of the guddari.
Today, most of our women skillfully apply such skills into creating a range of exquisite home furnishings and garments. Over the years, we have worked with many designers and developed various collections for different markets. The embroidery and patchwork skills are the backbone of Dastkar Ranthambhore and also a driving force of growth for the women trained in this craftsmanship.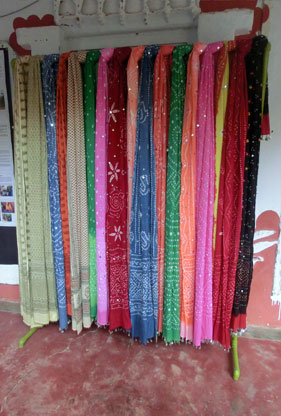 Bandhini(tie dye)
Sawai Madhopur has a long history of bandhini which traditionally adorned men's turbans and women's pomchas (half sarees).The bandhini from this region has a distinctive tribal look with motifs such as the bundi (dot), peacocks and flowers.
Over the years, local women have taken to wearing cheap mill made fabric. In some cases, sarees have replaced Odhanis (shawls) and lehengas (skirts). Today's bandhini is mostly screen printed making it difficult to sell the genuine hand tied bandhini.
Since the beginning, Dastkar Ranthambhore has been working with dozens of bandhini artisans to create garments and home textiles with the aim of keeping the tradition alive for generations to come.